Slow Down to Get Around
Distracted and impatient drivers create dangerous situations on the roadways as they encounter garbage and recycling collection workers leading several states to enact Slow Down to Get Around laws.
Slow Down to Get Around is a national safety campaign to remind motorists to slow down around waste collection vehicles. A leading, and completely preventable, cause of death for waste and recycling collection employees is being struck by a vehicle.
The National Waste & Recycling Association program Slow Down to Get Around is simple and encourages drivers to take these simple steps:
Slow down when approaching a collection vehicle;
Look for workers before passing a garbage truck;
Check for traffic approaching from the opposite direction before passing the truck; and,
Avoid distractions – cell phones, adjusting radio stations, eating, etc. - when driving near a garbage truck.
Millennium Waste Inc. reminds motorists that slowing down and cautiously passing a collection worker is not only a good safety practice, it's been the law in Illinois since 2015.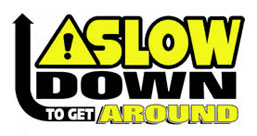 On January 1, 2015, an addendum to Scott's law went into effect in Illinois requiring motorists to slow down when they are approaching recycling trucks. This was an addition to an existing law that required vehicles to slow down when approaching garbage trucks. The law requires that a driver change lanes (if possible) or slow down below the posted speed limit, or risk a penalty of up to $10,000.
The Slow Down to Get Around program was developed by the National Waste & Recycling Association with an Association member in the Midwest, and the Mc Neilus Companies, an Association member that manufactures garbage trucks. The program was created following two tragic accidents resulting in the death of one waste collection employee and severe injuries to a second. Both accidents were due to careless driving by motorists.
With this law now in effect, it's up to all Illinois motorists, public safety agencies and the news media to spread the word to Slow Down to Get Around. It is literally a matter of life and death.
---
Last Modified: