Quad Cities Landfill

Solid Waste Solutions for a Better Community

Our commitment to clean and safe waste management extends to the Quad Cities Landfill, in Milan, IL which we own and operate.
As the Quad Cities' leading waste management company, Millennium Waste equips the landfill with environmental monitoring systems, gas and leachate management systems, and a storm water pollution prevention plan to ensure compliance with all state and federal regulations.
Additionally, our personnel are trained to prevent the acceptance of hazardous waste and other banned materials into the landfill.
Hours
Monday - Friday 7am – 4pm
Saturday 7am – 12pm (noon)
Location
Quad Cities Landfill
13606 Knoxville Road
Milan, IL 61264

Phone: 309-787-2303
Directions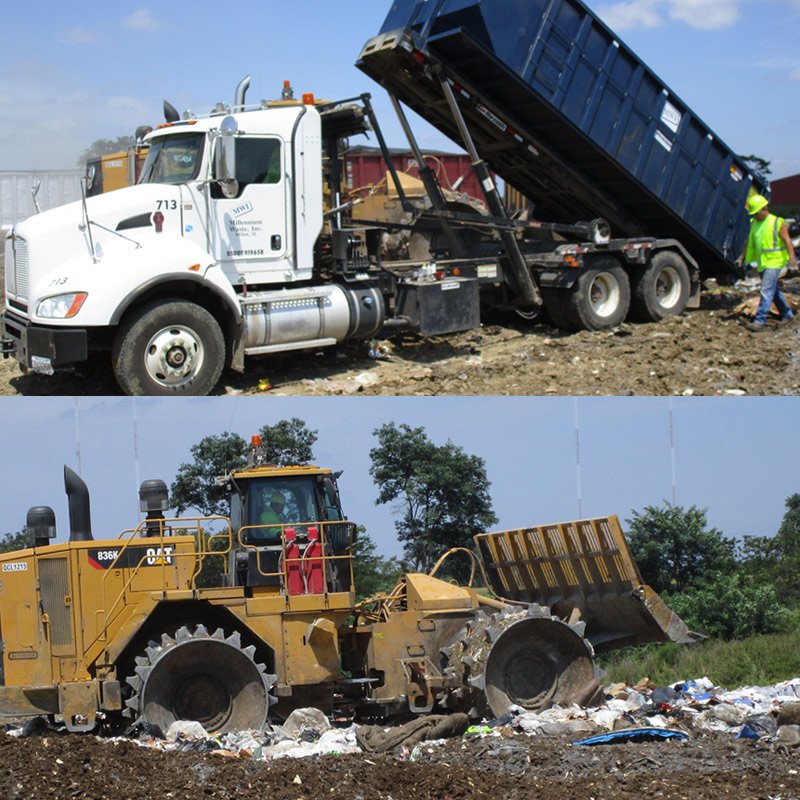 A safety video for all Quad Cities Landfill users.
Drop-off guidelines
All loads must be covered. Uncovered loads will be rejected and not allowed into the landfill.
Accepted Items
Commercial waste
Demolition debris
Household municipal waste
Yard Waste
Accepted items with preapproval
Asbestos
Contaminated soils
Incinerator ash
Industrial-processed wastes (special waste)
PCB wastes not regulated by TSCA
Pollution control wastes (sludges, automobile shredder residue, contaminated soils)
Not accepted for regular disposal
Antifreeze
Appliances and water heaters
Corrosive materials including: batteries and drain cleaners
Electronics
Explosives including: ammunition, propane cylinders and tanks
Hazardous waste
Ignitable materials (solvents)
Pesticides
Tires
Untreated medical waste
For disposal call 309-787-2303
Standard gate rates
July 1, 2021


Garbage
$90 per ton
$90 minimum charge
Yard Waste
$90 per ton

$90 minimum charge

Saturday morning rates for Rock Island residents
The city of Rock Island has entered into a cooperative agreement with MWI to administer a program to dispose of municipal solid waste and yard waste on Saturday mornings only.
All loads must be covered. Uncovered loads will be rejected and not allowed into the landfill.
Valid identification that the patron is a resident of the city of Rock Island must be presented. The identification must be state or federal government issued and not expired.
Each load will be charged $19, payable with cash or MC/Visa. No checks.
Each load must be no larger that a bed level full sized pickup truck (4' x 8' x 3')
Patrons must drive onto the scale for instructions
Remember it's not waste until you waste it!
Modern Landfills are unlike Garbage Dumps of the Past
Unlike a garbage dump, the EPA defines, "Modern landfills are well-engineered and managed facilities for the disposal of solid waste. Landfills are located, designed, operated and monitored to ensure compliance with federal regulations. They are also designed to protect the environment from contaminants, which may be present in the waste stream.
Unlike the old garbage dumps, the EPA states, "Landfills cannot be built in environmentally-sensitive areas, and they are placed using on-site environmental monitoring systems. These monitoring systems check for any sign of groundwater contamination and for landfill gas, as well as provide additional safeguards.
Today's landfills must meet stringent design, operation and closure requirements established under the Resource Conservation and Recovery Act (RCRA)."
What is RCRA?
"The Resource Conservation and Recovery Act, was enacted by Congress in 1976. RCRA's primary goals are to protect human health and the environment from the potential hazards of waste disposal, to conserve energy and natural resources, to reduce the amount of waste generated, and to ensure that wastes are managed in an environmentally sound manner."