Residential Service
Pickup Schedule | Safe Collection | Trash Materials | Recycling
Millennium Waste Inc. (MWI) provides curbside residential trash and recycling services that are convenient and dependable. Whether you need a residential roll off dumpster for a special cleanup project or regular weekly collection, our professional and friendly drivers will pick up your household waste on time.
Rock Island Resident Drop Off Program Rate Adjustment
Effective January 1, 2023 the rate will increase to $20.00 per load.
MWI offers 95-gallon trash carts. The carts provide a safe and secure place for residential waste between pickup dates and the large wheels make it easy to roll carts to and from the end of the driveway.
---
Residential Pickup Schedule
MWI offers their residential customers easy-to-use tools online or via the free App.
My Schedule - Enter your address to view your normal and holiday schedule.
Waste Wizard - Look up items to make sure they are acceptable in MWI containers.
Download App - The free app allows users to view their schedule, check the Waste Wizard, set up reminders and pay their bill.


---
Safe Collection
Millennium Waste Inc. strives to assure the complete safety of our customers, our employees and the public in all our operations. Please contact us if you need additional carts.
5 Steps to Safe & Efficient Collection
Place only acceptable materials in the trash cart and do not overfill.
Bag and tie all garbage materials AND close the lid to prevent littering.
Place the carts at the end of your driveway the night before your collection day.
Space carts for safe and efficient collection. (see diagram)
After cart is emptied, remove from driveway.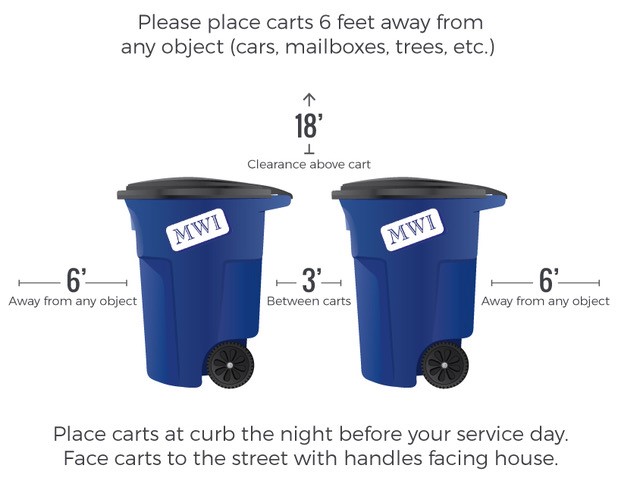 When you and your neighbors place carts a safe distance from other carts and objects, it allows the auto side load trucks to safely and promptly empty the carts.
Why Cart Spacing Matters
The 18' height spacing is needed to reduce overhead hazards like powerlines and trees.
The 3' cart spacing is needed to accommodate the auto load system.
The 6' distance is needed to safely empty the cart near trees, cars, mailboxes, etc.
Everyone Benefits
When each household consistently follows the 5 Steps to Safe & Efficient Collection everyone benefits with:
Safety
Timely Service
Cleaner Neighborhoods
---
Residential Trash Materials
Unacceptable Trash Items
Antifreeze
Concrete
Corrosive materials including: batteries and drain cleaners
Explosives including: ammunition, propane cylinders and tanks
Fluorescent lamps
Hazardous waste
Ignitable materials (solvents)
Liquid paint
Pesticides
Scrap metal
Tires, appliances and water heaters
Untreated medical waste
For disposal call 309-787-2303
Millennium Waste offers residential trash services for homes in the Quad Cities area.
Contact Us today to set up your residential garbage pickup.
---
Residential Recycling
Recycling has become crucial in today's world and helps create a healthier environment for future generations. Millennium Waste ensures the Quad Cities garbage and recycling services we provide are straightforward and efficient for our customers. At this time, we offer Aledo, IL residential recycling services only. We understand the importance preserving natural resources for future generations and recycling is one way for you to reduce the negative impacts of that waste.
We provide our Aledo residential recycling customers with an 18-gallon recycle bin for single stream collection, eliminating the need to sort. Let Millennium Waste be your partner in reducing and reusing products that make up a wide-ranging level of waste.
Request our services today and together we can help our community and our world.
Residential recycling pickup instructions
Place recycling containers on curb the night before your scheduled pickup day
Collection available Monday-Friday
18 gallon carts provided
Glass and plastic recycling
Accepted Recycling Items
Aluminum
Beverage containers
Cardboard
Laundry detergent bottles
Milk and water jugs
Paper
Plastic with #1-7 printed in the triangle on the bottom
Wine and beer bottles
Unacceptable Recycling Items
Broken glass
Buckets
Chemical/pesticide containers
Plastic bags
Used oil containers
For disposal email us or call 877-934-5378
Residential Household Hazardous Waste
Residents in Rock Island County and Scott County may drop off household hazardous waste at the Waste Commission's Davenport, IA location.
Please visit the Waste Commission's website for more details.