Landfill Near Me vs Garbage Dump Near Me
Many people use the search terms garbage dump near me not knowing they really want to search for landfill or landfill near me.
In the United States, the EPA no longer allows garbage dumps because they are illegal. On the EPA website under the Environmental Issues Terms & Acronyms section they define a garbage dump as:
Dump - A land site where wastes are discarded in a disorderly or haphazard fashion without regard to protecting the environment. Uncontrolled dumping is an indiscriminate and illegal form of waste disposal. Problems associated with dumps include multiplication of disease-carrying organisms and pests, fires, air and water pollution, unsightliness, loss of habitat, and personal injury.
The EPA defines a landfill as:
Modern landfills are well-engineered and managed facilities for the disposal of solid waste. Landfills are located, designed, operated and monitored to ensure compliance with federal regulations. They are also designed to protect the environment from contaminants, which may be present in the waste stream. Landfills cannot be built in environmentally-sensitive areas, and they are placed using on-site environmental monitoring systems. These monitoring systems check for any sign of groundwater contamination and for landfill gas, as well as provide additional safeguards. Today's landfills must meet stringent design, operation and closure requirements established under the Resource Conservation and Recovery Act (RCRA)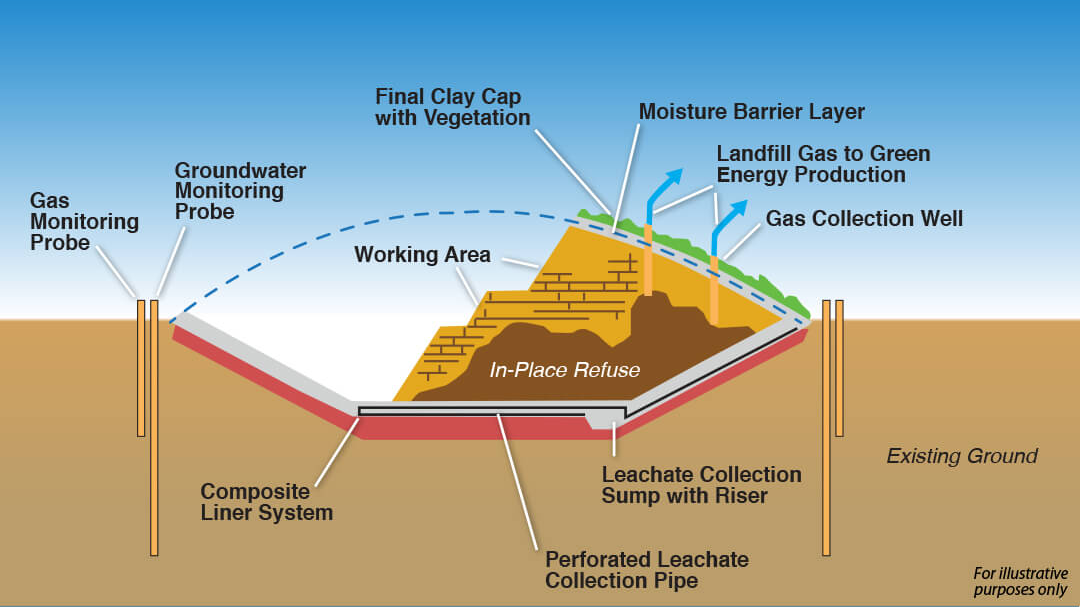 Disposing waste in landfills is one part of an integrated waste management system. EPA encourages communities to consider the waste management hierarchy - favoring source reduction to reduce both the volume and toxicity of waste and to increase the useful life of manufactured products - when designing waste management systems.
The Quad Cities Landfill is open to the public and accepts Municipal Solid Waste (MSW) and Construction and Demotion (C&D) debris and, with special approval, non-hazardous Special Waste and Asbestos. The landfill is open Monday-Friday from 7AM to 4PM and on Saturday 7AM to noon. If you have questions you can email us or call 309-787-2303.
---
Last Modified: